Encapsulants are a staple material for designers of electronic devices, providing both insulation and protection for electrical and electronic components. Typically this material is applied in thick layers and completely embeds the electronic circuitry, keeping it safe from the harmful effects of moisture and other contaminants, through isolation. Encapsulants can also protect the circuit from thermal and mechanical stresses and provide electrical insulation for high voltages.
With a material this versatile, you might be fooled into thinking you can't go wrong, however selecting the correct encapsulant is crucial to securing the results you desire. As a distributor of adhesive materials and adhesive dispensing equipment, we have an extensive portfolio of encapsulants from a range of industry leading brands. We are happy to share with you our expertise on this electronic material and can provide unbiased advice on the different encapsulant options available, helping you to decipher which one is right for you.
Encapsulants Types
There are a number of different encapsulants on the market, from potting and moulding compounds to glob top and chip on board encapsulants. These product categories can then be further broken down into material type, with the main chemistries including silicones, epoxies and urethanes. The choice of material type depends on the application for which it is required. Generally, most silicone, epoxy and urethane systems offer the electrical and environmental protection required for ambient conditions. The difference between encapsulant chemistries has more significance as requirements become more complex and extend beyond the basic ambient protection all encapsulants provide.
Material Choice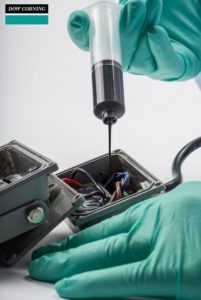 Silicones have several qualities which are desirable for encapsulating circuits including minimal shrinkage, deep section cure, repairability, excellent dielectric properties and the ability to cure to a flexible, stress-relieving elastomer.
Silicone encapsulants are considered to be safer than urethanes and epoxies, which carry certain risks including potentially harmful ingredients and the possibility of exotherm. Another great benefit of this material is its wide range of operating temperatures which stretches from -45 to 200 degrees.
Silicones are usually easy to mix two-component systems, consisting of the resin itself as well as a catalyst such as hardener or accelerator. Dow Corning has a range of silicone encapsulants which are supplied as solvent less, two part liquid component kits in convenient ratios. Some are designed for 1:1 mix ratios with parts A and B, while others are formulated for mixing at 10:1 ratios with a base and curing agent.
In contrast to two component silicone encapsulants, epoxies do not require primers. Epoxy encapsulants are suited to a range of applications thanks to their ability to adhere unaided, to a range of substrates. Epoxies offer superior resistance to environmental hazards such as high temperatures and chemical exposure. Furthermore they are processed easily and are friendly to the environment and the workplace.
Robnor ResinLab
has a range of epoxy encapsulants used to encapsulate electronics. Robnor ResinLab PX700K-1 for example is commonly used by manufacturers requiring excellent physical and chemical resistance qualities, while Robnor PX439XS is the encapsulant of choice for users requiring excellent heat resistance and dimensional stability. In addition to this, Robnor PX439XS has low running costs and does not require any oil or oil spillage contaminant infrastructure.
Urethanes and polyurethanes are the final material to be considered, these encapsulants provide a good balance of durable protection and flexibility making them the material of choice for applications requiring elongation and abrasion resistance. Generally, urethane encapsulants are much softer than epoxies and can cure in a wide variety of gel times with lower stress than an epoxy. Additionally, urethane encapsulants are the preferred potting compound for adhesion to plastics. Robnor Resinlab has a range of urethane encapsulants that perform well in low temperature applications (up to -40C) as they maintain a high degree of flexibility.
Encapsulant Variations
Moving on from the material composition of encapsulants, let us explore two further variations on this complex yet fascinating product type; UV curing pottants and chip on board encapsulants.
UV curing pottants are the encapsulant of choice for users looking to increase production throughput since they cure in seconds upon exposure to UV light. UV potting compounds are ideal for shallow component potting and sealing of connectors, inductors, detectors, capacitors, RF circuits, relay screws, sensors, tamper proofing, and PCB encapsulation. Dymax, the leading manufacturer of UV curing materials and systems, has a full range of light-cure potting materials designed to cut the costs and processing times associated with microelectronic assembly. Dymax Series 9000 is a selection of single part encapsulants offering high ionic purity and excellent adhesion and resistance to humidity, while the Dymax 9100 series comprises a range of resilient chip-encapsulant materials designed with a light and secondary ambient moisture cure system to tackle shadow areas.
If strength is a key application requirement, Chip on Board encapsulants could provide the solution. This encapsulant type is specially designed to boost mechanical strength and provide environmental protection to wire bonds, leads and aluminium. Henkel Loctite has two ranges of chip on board encapsulants, Loctite Hysol and Loctite Eccobond. These Henkel ranges are favoured by manufacturers seeking outstanding performance and high throughput for low cost assembly processes. Henkel encapsulants provide reliable protection and value in the same package and are available as UV curing or thermal materials.
Conclusion
Now that the main encapsulant types and their properties have been established, it should be much easier to find the product suited to your requirements, however it is important that these requirements are carefully evaluated. Ask yourself: What is essential to my application? Consider elements such as flexibility, strength, cure time, budget and temperature sensitivity. By doing this, your search should be narrowed down considerably.
With so many encapsulant products in the market, even if your needs are demanding, there is bound to be at least one product that ticks all of your boxes. And remember, if in doubt, don't hesitate to Ask the Glue Doctor who will be happy to help!